Dr. Sullivan's award-winning in-person brain health education program is now available directly to you!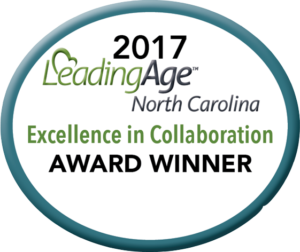 I CARE FOR YOUR BRAIN with Dr. Sullivan's online series on the pillars of brain health is finally here! In each approximately hourlong online video lecture, you'll be educated and and empowered with up-to-date current scientific information and evidence-based recommendations in the easy-to-understand yet comprehensive style you have come to love from her weekly Facebook lectures.
Each online video lecture is just $10 OR you can choose to watch the video lecture AND receive the companion workbook for that lecture for $25 each (includes sales tax and shipping). Each lecture is paired with its own 68-page color workbook containing long-format articles, lecture slides, small group discussion topics, trivia and interactive behavior change tracking tools to help you get the most out of your lecture.
---
LECTURE 1Understanding the Aging Brain: What is Normal and When to Worry
LECTURE 2How to Minimize Your Risks for Dementia Throughout the Lifespan
LECTURE 3Heart Health = Brain Health: How to Take Control of Your Risk Factors
LECTURE 4How Do Substances Affect The Aging Brain? From Diet to Alcohol and Supplements
LECTURE 5The Psychology of Aging: Strategies for Better Coping
LECTURE 6The Importance of Social Connection in Older Adulthood: It Takes a Village
LECTURE 7Evidence-based Methods for Improving Your Memory
LECTURE 8How Sleep Changes With Age: Effects on Memory and Mood
LECTURE 9Brain Health As We Age: Top 10 Recommendations
---
Let's get started today!
Scroll down to purchase lectures 1-9 and companion workbooks.
---
I CARE FOR YOUR BRAIN LECTURE 1
Understanding the Aging Brain: What's Normal and When To Worry
---
I CARE FOR YOUR BRAIN LECTURE 2
How To Minimize Your Risks For Dementia Throughout The Lifespan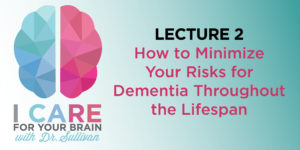 ---
I CARE FOR YOUR BRAIN LECTURE 3
Heart Health = Brain Health: How To Take Control of Your Risk Factors

---
I CARE FOR YOUR BRAIN LECTURE 4
How Do Substances Affect The Aging Brain? From Diet To Alcohol and Health Supplements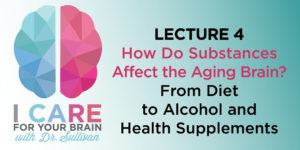 ---
I CARE FOR YOUR BRAIN LECTURE 5
The Psychology of Aging: Strategies For Better Coping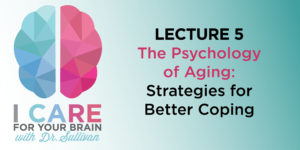 ---
(Please specify Companion Workbook #when ordering)