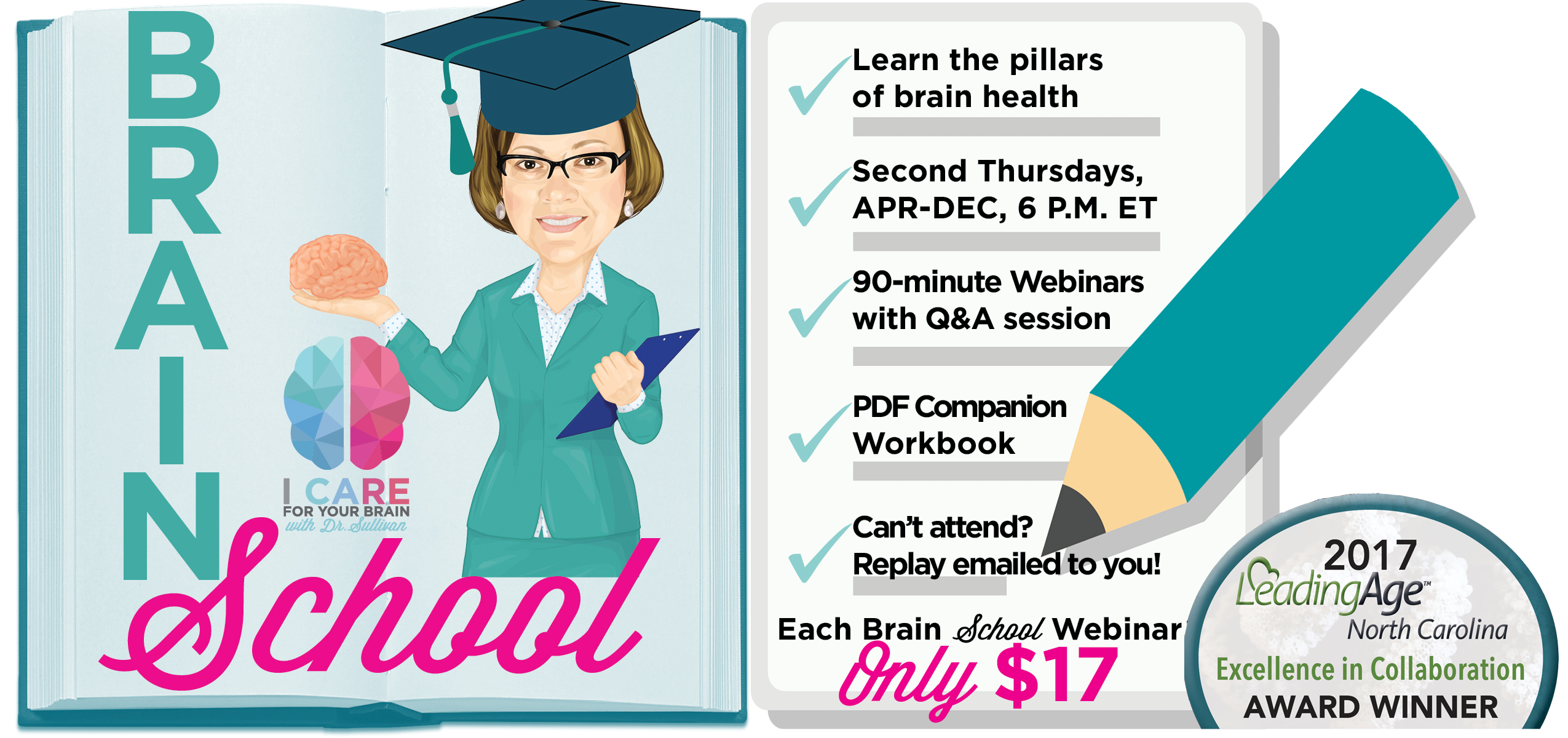 DR. SULLIVAN'S AWARD-WINNING BRAIN HEALTH ZOOM WEBINAR LECTURE SERIES MONTHLY THROUGH DECEMBER 2021

Brain health should be a top priority for all of us but especially to those living with a brain health challenge.
If you've had a stroke, traumatic brain injury or are living with any neuropsychological disorder, including Parkinson's disease, essential tremor or orthostatic tremor, the impact of normal brain aging can be even more significant and increase your risk of developing dementia of all kinds.
This fact requires informed decision making for those in the brain health community of what to do and what not to do to increase or decrease your risk of developing a significant cognitive disorder.
Neuroscience research is VERY CLEAR that you can reduce the risk of developing dementia as we age and, yes, even after a brain health challenge.
But, how exactly can you do that?
BY MAKING INFORMED, EVIDENCE-BASED BRAIN HEALTH DECISIONS EVERY DAY!
Who do you trust to instruct you on what specifically those daily choices should be? Research tells us that while people would prefer to learn from their doctors how to make their brain strong and healthy, instead they receive most of their information from popular magazines and commercials.
This is concerning, because these media messages are often sponsored by corporations selling a product, which brings their truthfulness into question and increases the risk of exploitation. In fact, an $8 billion marketplace of "brain fitness" products have developed in recent years.
Supplements, computer games and phone apps promise to maintain and enhance your brain functioning and, occasionally, prevent or reverse brain diseases like dementia.
These products often offer a "one pill" or "one game" solution based on the misconception that a single intervention will stall the multifactorial processes of brain aging that occur throughout a lifetime.
This approach neglects the complex interaction of genetic and lifestyle factors known to influence brain health across the life span (your DNA, cardiovascular health, diet, exercise, sleep, social connection, stress, hobbies) that YOU must know and understand if your brain is to age successfully.                                   
I feel a responsibility to do better.
These facts troubled me and inspired me to develop a monthly lecture series based on a state-of the-art curriculum of brain health topics important to YOU, the brain health community. By translating advances in neuroscience into easy-to-understand teachings and easy-to-follow recommendations, you are guaranteed to improve your brain health and quality of life.
The findings of scientific research are too often distorted once they reach popular media and are presented in way that is skewed for profit. There is such rich understanding of the brain at the scientific level that doesn't typically trickle down to real people. I've built my career on bridging the gap between these two worlds and am thrilled to offer this monthly curriculum to you, the brain health community.
---
ICFYB BRAIN SCHOOL will transform you into a highly knowledgeable, empowered and active participant in your brain health!
You will feel:
Guided to make the best decisions for your brain health every day
Supported with the right tools to put what you learn into daily practice
More in control of your brain's health and your own well being
Less anxious about the future of your brain's health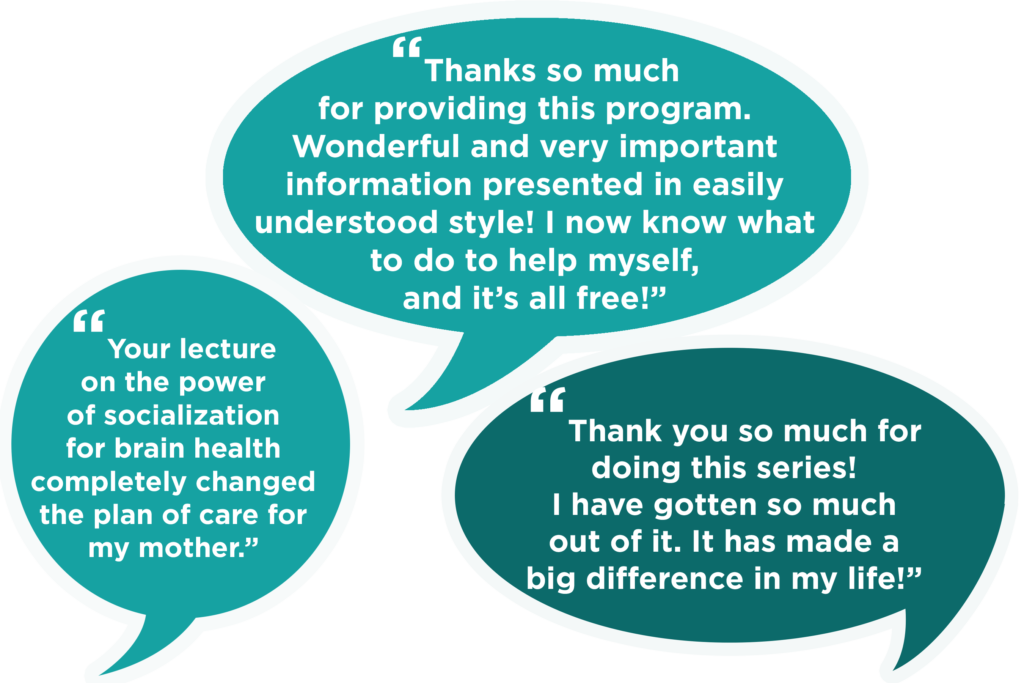 WHAT IS ICFYB BRAIN SCHOOL?
Dr. Sullivan's monthly brain health education program that informs you on the pillars of brain health every person concerned about brain health must know.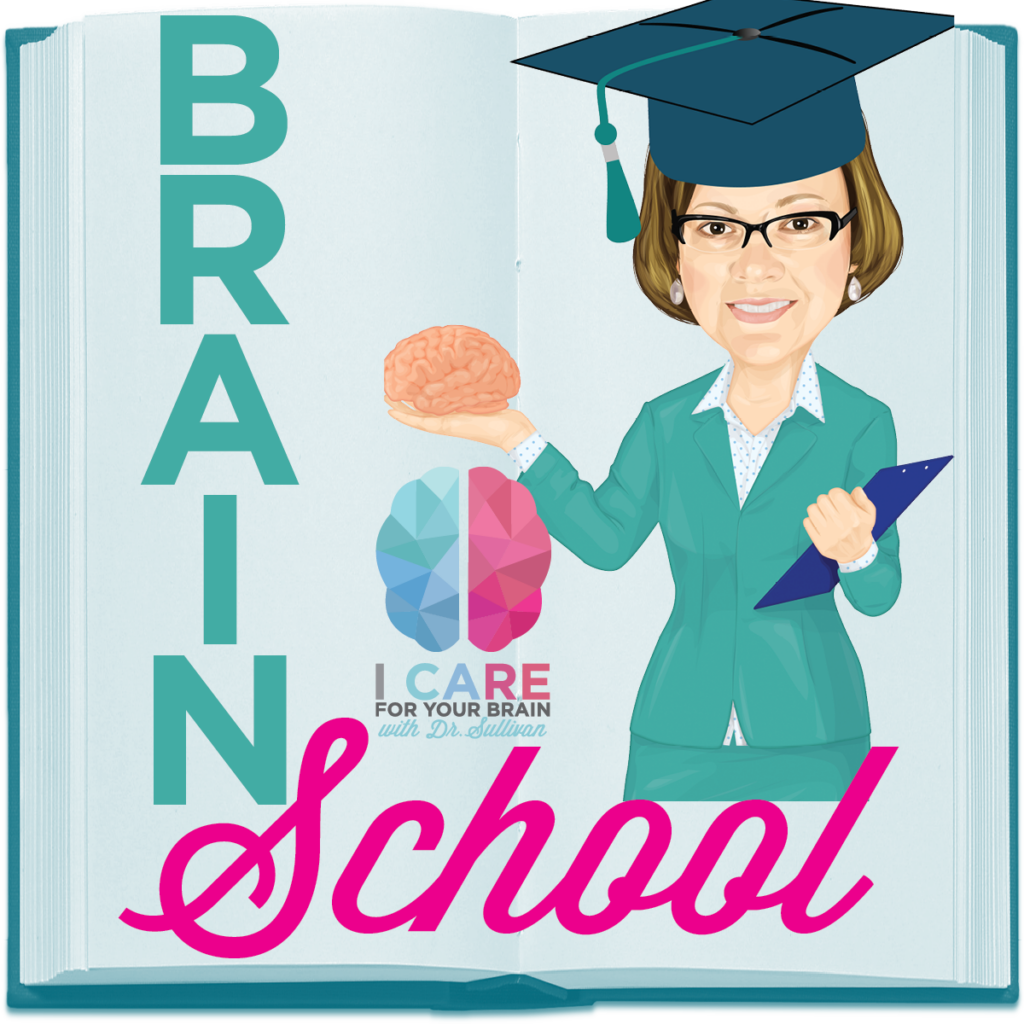 HOW WILL I LEARN?
In each 90-minute live Zoom Webinar, you'll be educated and empowered with up-to-date current scientific information and evidence-based recommendations in the easy-to-understand yet comprehensive style you have come to know from my weekly Facebook lectures. We wrap up each webinar with a Q&A session.
Each lecture is paired with its own 68-PAGE COMPANION WORKBOOK PDF containing articles, lecture slides, small group discussion topics, trivia and interactive behavior change tracking tools to help you get the most out of each webinar. As part of your registration fee, we will email your companion workbook directly to your inbox along with the video replay, so you can continue to watch and learn at your own pace.
---
Each lecture/workbook can be experienced on its own, but I recommend all nine for the full impact.
---
Can't Attend the Live Webinar? No Worries!
If you can't attend the live lecture, simply sign up, and we will email you the recorded webinar replay and companion workbook, so you can watch and learn when it's most convenient for you.
Prefer a Paperback Copy of the Companion Workbook?
All nine of the ICFYB Companion Workbooks are available in paperback for $10 each, includes tax and shipping! Each companion workbook is a 68-page, full-color paperback designed to help you put your learning into practice.
Click and order below, and it will be mailed directly to you!
(United States only, apologies to our international friends!)
HOW DO I SIGN UP?
Sign up today! Each webinar lecture is just $17!
Click and register for each ICFYB Brain School Webinars 1-9 below!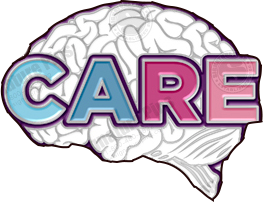 For those learners who sign up for all nine lectures, you will receive a:
Certificate of completion
A limited-edition enamel ICFYB pin
Personalized thank you card from Dr. Sullivan
Evidence-based Methods for Improving Your Memory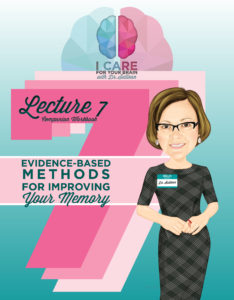 Can't remember what you came into the living room for? Can't remember where you parked or where put your car keys?
These types of concerns about short-term memory are common as we age. Unfortunately, the market is saturated with products promising all sorts of quick fixes for memory, from over-the-counter supplements to brain training games. According to Dr. Sullivan, although specific recommendations to improve memory depend on the cause of the memory problem for the individual, there are numerous proven memory-improving techniques that most would benefit from, and they are all free or very low-cost!
Dr. Sullivan discusses what brain scientists know improves our ability to learn and remember and, it won't cost you a dime! Become a more savvy consumer of brain products and know what memory tips will actually pay off.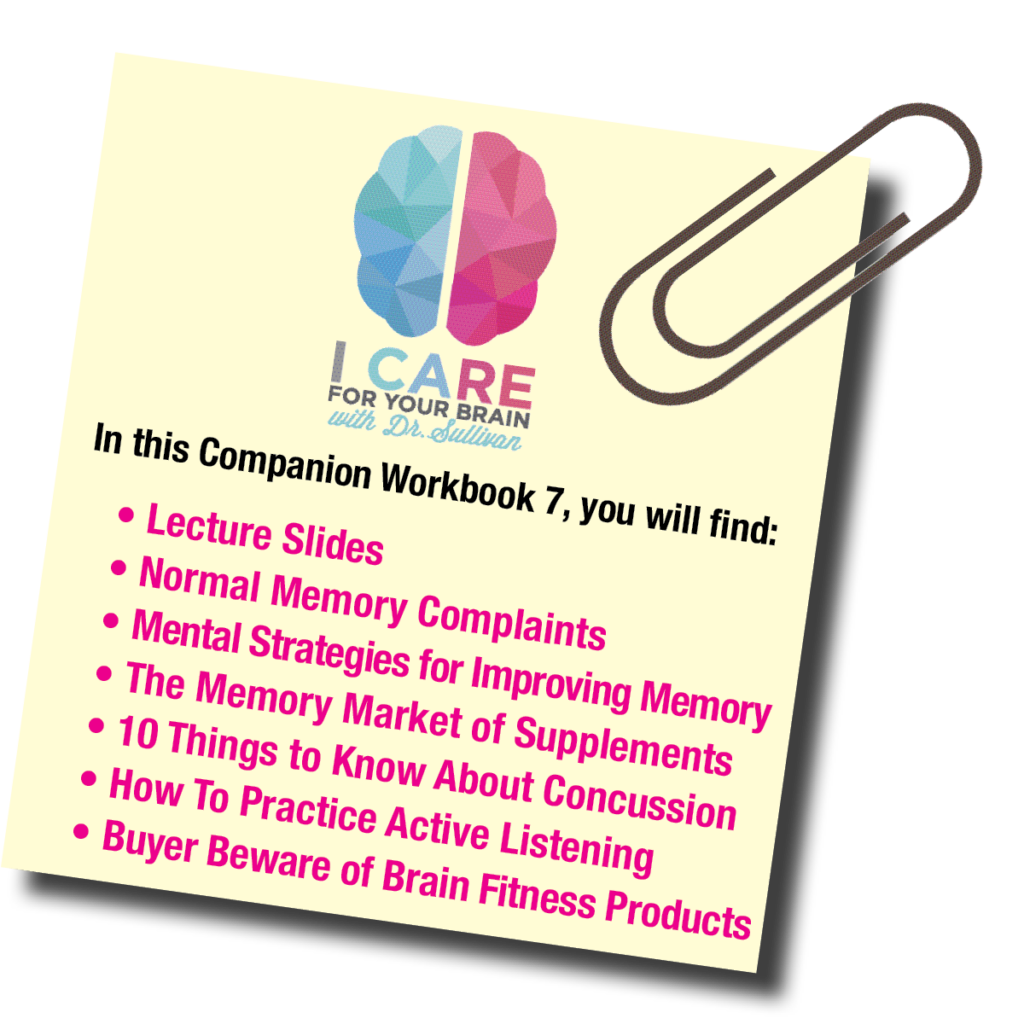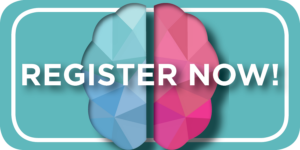 How Sleep Changes with Age: Effects on Memory and Mood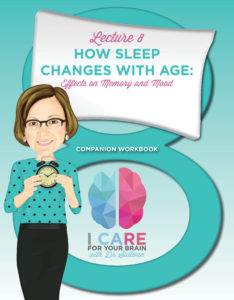 As we age, we experience significant changes in our sleep, including spending less time in the deeper stages of sleep, more disruptions throughout the night, waking up earlier and having more trouble going back to sleep. These changes are due to many factors, like nature calling (prostate issues in men and hormonal changes in women), medications, changes in our brain and medical conditions that are more common with age, such as diabetes and sleep apnea.
In the next ICFYB BRAIN SCHOOL lecture, Dr. Sullivan presents "How Sleep Changes with Age: Effects on Memory and Mood." She will discuss the consequences of poor sleep on our ability to learn, remember and manage stress. In this lecture, you will learn how to actively compensate for age-related sleep changes and apply the rules of "sleep hygiene" to improve your sleep, memory and mood starting this very night!
Brain Health As We Age: Dr. Sullivan's Top 10 Recommendations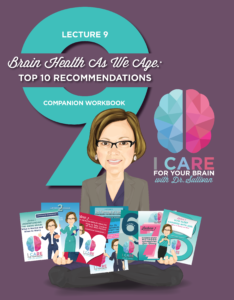 We end the ICFYB BRAIN SCHOOL Webinar Lecture Series with a look back on Dr. Sullivan's Top 10 evidence-based recommendations.
In this final lecture, we will review the reasoning behind my Top 10 recommendations for brain health from optimizing your senses, the power behind exercise, prioritizing uninterrupted sleep and the urgent need to reduce chronic stress, to being socially and meaningfully connected to others on your terms. If you haven't put the recommendations into practice in your everyday life yet, this is the perfect time to re-commit to self-care.
And if you have been applying the evidence-based recommendations made in this program, then we've accomplished the two things I promised you on this brain health journey: modifying your risk factors for less than optimal brain health and increasing your cognitive reserve!