We've been proud to deliver the I CARE FOR YOUR BRAIN program to multiple communities, including Penick Village and The Forest at Duke, two life plan communities in North Carolina, The Foundation of FirstHealth, and coming in September to Pinehurst United Methodist Church, which will be open to the general public.
Purchase Your Advance Lecture Tickets Here or Pay at the Door with Cash, Check or Credit Card. (Ticket includes N.C. Sales tax.)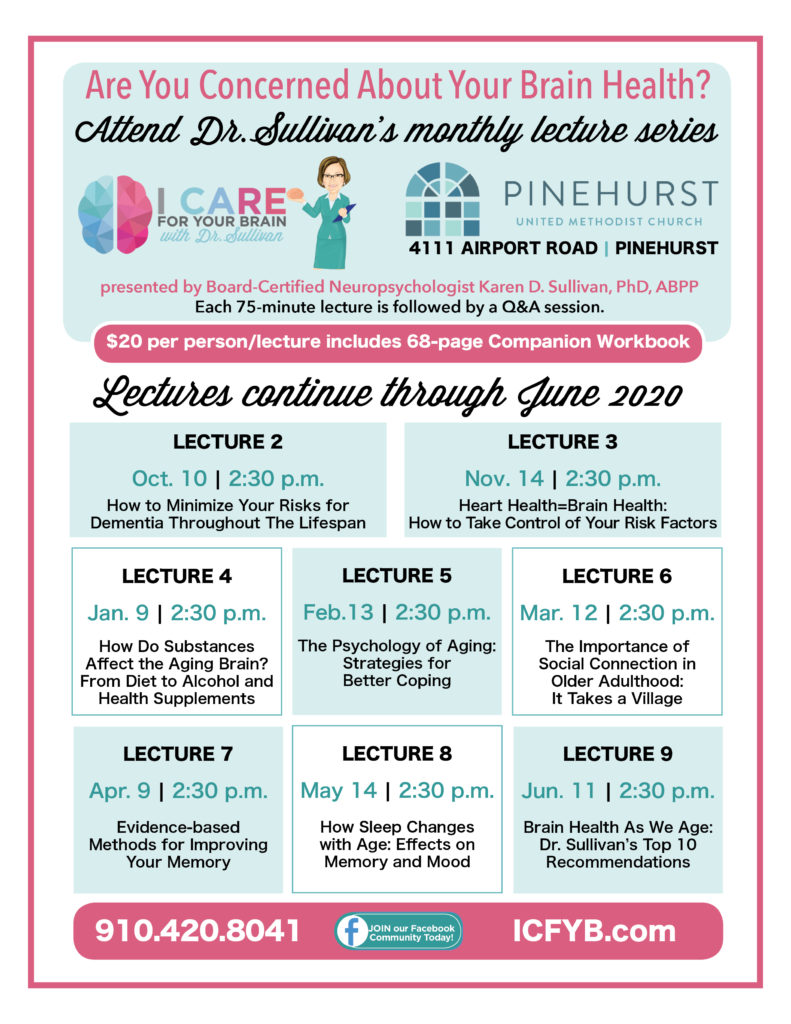 Neuropsychologist Karen D. Sullivan Presents Award-Winning Brain Health Program at Pinehurst UMC
PINEHURST, N.C. –In a recent survey of 1,037 older Americans, memory loss was cited as their No. 1 fear, more so than the fear of being buried alive, snakes or a terrorist attack. The American Psychological Association predicts that dementia-related anxiety is on the rise and could become its own clinical disorder.
These fears have created a ripe opportunity for marketers, and brain scientists warn that an epidemic of exploitation is dominating the field. In 2014, 74 psychologists and neuroscientists from around the world wrote an open letter to companies marketing "brain products," stating they are "exploiting customers by making exaggerated and misleading claims that are not based on sound scientific evidence."
These facts inspired Pinehurst neuropsychologist Karen D. Sullivan, PhD, ABPP, to create the I CARE FOR YOUR BRAIN with Dr. Sullivan program.
"I have serious concerns about the so-called 'brain fitness' industry, including supplements, computer games and phone apps that promise to enhance brain functioning and, even, prevent or reverse brain diseases, like dementia," Sullivan says. "It is well known in scientific circles that there is very little to no proof that these products do anything except empty the wallets of older adults to the tune of $8-10 billion annually. I knew I had a responsibility to offer something better. My goal was to develop a brain health program that was entirely based in science and motivates participants to make the genuinely impactful changes that, according to scientists not marketing executives, really improve brain health."
The first of the nine I CARE FOR YOUR BRAIN program lectures begin at Pinehurst United Methodist Church on Thursday, Sept. 12 at 2:30 p.m. and are open to the public, as Dr. Sullivan presents Understanding the Aging Brain: What is Normal and When to Worry. Admission to each of the nine lectures is $20 per person ($30 per couple with 1 workbook) and includes a 68-page, full-color, companion workbook to reinforce and personalize the learning experience. Each 75-minute lecture is followed by a question and answer session.
"The program is centered on eight brain-centric topics that science has shown to contribute to successful aging with the ninth being my top 10 recommendations," Sullivan says, "The lectures are delivered in two parts, beginning with high-quality scientific information on a topic and concluding with evidence-based recommendations that participants can begin implementing immediately. My goal is to empower participants with practical and achievable instruction that truly improves their brain health at little or no cost."
The lecture series continue monthly on the second Thursday (skipping December) at 2:30 p.m. at Pinehurst UMC with the following brain health topics:
OCT 10, 2019 | How to Minimize Your Risk for Dementia Throughout the Lifespan
NOV 14, 2019 | Heart Health=Brain Health: How to Take Control of Your Risk Factors
JAN 9, 2020 | How do Substances Affect the Aging Brain: From Diet to Alcohol and Health Supplements
FEB 13, 2020 | The Psychology of Aging: Strategies for Better Coping
MAR 12, 2020 | The importance of Social Connection in Older Adulthood: It Takes a Village
APR 9, 2020 | Evidence-based Methods for Improving Your Memory
May 14, 2020 | How Sleep Changes with Age: Effects on Memory and Mood
JUN 11, 2020 | Brain Health as We Age: Dr. Sullivan's Top 10 Recommendations
"There are more than 100 scientific journals dedicated to brain health, and until now, the main way the public learned about all of the incredible information contained in these pages was in sensationalized media snippets, emphasizing 'shock value' or to sell a product. I wanted to close this gap and provide objective, science-based information needed to truly attain brain health."
Recognizing the impact of the program, LeadingAge North Carolina, a Raleigh-based nonprofit representing 69 senior living communities, presented its Excellence in Collaboration award to the I CARE FOR YOUR BRAIN with Dr. Sullivan program after its first presentation at Penick Village, a life plan community in Southern Pines, in May 2017.
Prior to opening her practice, Pinehurst Neuropsychology Brain & Memory Clinic, Sullivan completed her formal education and training at Boston University, Harvard Medical School and assistant professorship at the University of North Carolina at Chapel Hill's School of Medicine. She draws from her personal experiences as a caregiver, nursing assistant, therapeutic companion, activities director and co-director of an adult day health program.
"I am determined to provide participants with the information they need to become more informed consumers of brain science and empowered participants in this important aspect of their health," Sullivan adds. "I am proud to provide a bridge from the academic back to the 'real' world."
To date, Sullivan's brain health program has attracted more than 5,000 attendees in her presentations at Penick Village in Southern Pines, The Forest at Duke in Durham, and most recently, for The Foundation of FirstHealth at Country Club of North Carolina.
"Dr. Sullivan has done an amazing job of bringing important brain issues to the forefront," says Margaret Sherrod, a program participant. "She explained the topics in a very clear and interesting manner—things no one talks about, always with a little humor and, most importantly, a great deal of knowledge. I've gotten so much out of it. It's made a big difference in my life."
Purchase tickets in advance here, or pay at the door with cash, check or charge. For more information, email carrief@icfyb.com or call 833-423-9237.